"Good job, Ms. Kennington!"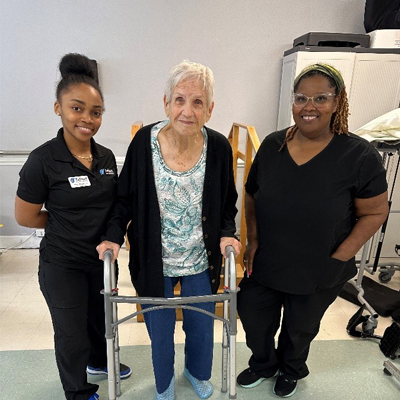 Join us this month as we celebrate the success of Ms. Virginia Kennington at Springdale Healthcare Center! Ms. Kennington was admitted to us from MUSC Kershaw where she was diagnosed with a broken shoulder, kidney injury, and fluid on the lungs.
After spending over a week in the hospital, Ms. Kennington required extensive assistance for self-care tasks and functional mobility. During her occupational therapy and physical therapy evaluations, Ms. Kennington reported that the most important thing to her was to "take care of myself again."
Ms. Kennington remained dedicated and worked hard towards her goals for weeks and demonstrated progressed immensely.  She is now walking 200ft with standby assist using her walker and taking herself to the restroom independently.  Springdale facility and staff a super proud of her progress and outcomes!