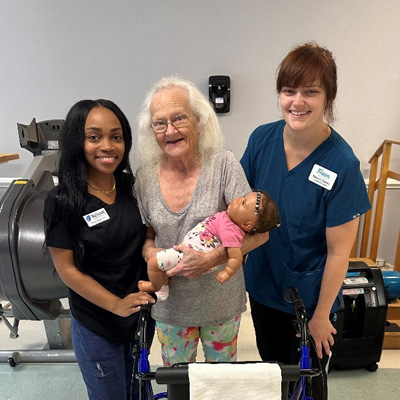 This month we are celebrating the success of Ms. Luna Riddle at Springdale Healthcare Center! Ms. Riddle was found in her home, where she admitted she could not remember if she had fallen or not.
Following her hospital stay, Ms. Riddle was unable to walk or care for herself without losing her balance or becoming very dizzy. During her occupational therapy and physical therapy evaluations, Ms. Riddle reported that the most important thing to her was to be able to take care of herself and be as mobile as possible.
Ms. Riddle worked so hard with our team for weeks and stayed motivated with each therapy session with our team. She is now able to care for herself as well as "Luna Ann Riddle Jr." independently. Upon completion of skilled services, Ms. Riddle has decided to reside here at Springdale because she loves the community and support!