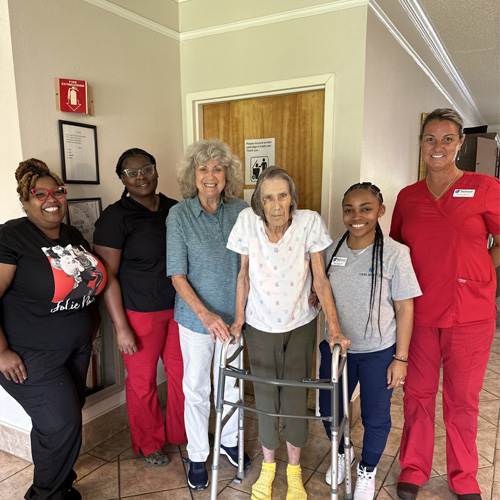 This month we are celebrating the success of Ms. Idona Erwin at Springdale Healthcare Center! Ms. Erwin slipped and fell in her home while walking to her front door to check on a sick bird that was lying on her front porch. After her fall, she was transferred to the emergency room where she learned she had fractured her left hip. She was admitted to us after experiencing a hospital stay at Midlands Regional Rehabilitation Hospital.
Following her hip surgery, Ms. Erwin was unable to walk or care for herself. She even began having digestive issues while in the hospital. During her occupational therapy, physical therapy, and speech therapy evaluations, Ms. Erwin reported that the most important thing to her was to be able to take care of herself as independently as possible.
Ms. Erwin worked so hard with our team for weeks and is now able to perform all self-care tasks with supervision and walk over 200ft. We are so happy for Ms. Erwin and her growth thus far!